Join me and The Weather Company (and some B.E.A.R.s) at TrailheaDX
Part of the strategic partnership between Salesforce and IBM is the usage of weather data for enhanced business processes. Over the last couple of months I had the great pleasure to work with the colleagues from The Weather Company (looking at you Aleesa, Michelle, Alexis, Maia ;-) ) on several items of that.
If you want to learn more about how to incorporate weather data, besides the published content (here and here) on the Salesforce Developer blog - now you can.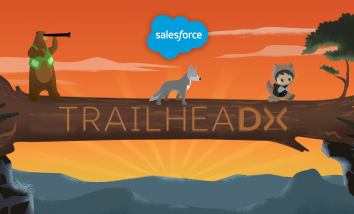 I'll be speaking with Matthew Porcelli at our unique developer conference TrailheaDX (admins are more than welcome, too) in San Francisco about the "why" and "how" to do it on your own.
The Weather Company: Building Weather Apps That Transform Business
Join René Winkelmeyer, Salesforce Developer Evangelist, and The Weather Company's Matthew Porcelli, sales engineer, meteorologist, and storm chaser, as they explore the use of weather data within Salesforce. In this hands-on session, René and Matthew will demonstrate how to access and integrate rich weather data - current, forecast and historical - into your Salesforce environment to trigger weather-based actions, improve service delivery, provide better customer touchpoints and build stronger, more lasting relationships.
Check out the full list of 140+ technical sessions for the conference here.
There will also be a demo stations around Salesforce and weather - go to the B.E.A.R. labs or The Weather Companies booth for that.
Less than three weeks to go. If you haven't registered - hurry up, especially because you'll get two free Salesforce University certification vouchers till June 15th.